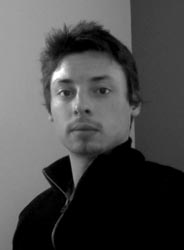 Alex Davison
began dance training at age seven in his father's Boyz Dance classes, and the love he discovered for dance, juggling, mime, theater, and object manipulation has influenced his life ever since. Boyz Dance soon led to ballet with his mother, and the opportunity to spend summers studying on full scholarship at Pacific Northwest Ballet in Seattle and American Ballet Theatre in New York City. After winning the regional Grand Prix award in the Youth America Grand Prix competition, Davison would later return to New York and dance as one of the top ten male finalists from around the world.
After graduating from Boulder High School, Davison attended the Miami City Ballet Summer Course at the personal invitation of the company's artistic director, renowned New York City Ballet dancer Edward Villella. While at the summer course, Davison was offered a full scholarship to study at the school's year round program, which culminated in performances of Balanchine's
Serenade
and
Four Temperaments
. Davison was then offered a spot in the Miami City Ballet as a company apprentice, and he spent the next year learning and dancing pieces by George Balanchine, Jerome Robbins, and John Cranko, taking each performance to four different cities around Florida, and joining the company for a three-week tour to Paris in which he danced at the Théâtre du Châtelet. After returning to the States, Davison headed home to Boulder to take a break and heal from what had become a chronic back injury.
Since then, Davison has choreographed several works for Boulder Ballet's professional company, including a suite of dances set to songs by Cole Porter, and a new interpretation of Aaron Copland's
Appalachian Spring
which premiered in 2013 with the Boulder Philharmonic Orchestra, to a sold-out audience at Macky Auditorium Concert Hall.
Go to Alex's Blog.