PETER DAVISON - BIOGRAPHY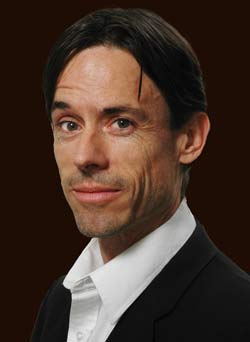 Peter was born in 1961 and raised in Santa Monica, California in a supportive and creative family. His boyhood idols were Alexander Calder and Batman, who no doubt inspired his future career in subtle ways. At twelve years old Peter learned to juggle from a library book titled
Juggling Made Easy
(a somewhat misleading title) and continued his training in juggling and other circus arts with retired pros Foy and Fay. Through his teenage years, Peter learned to captivate non-captive audiences by juggling and unicycling on the streets of Los Angeles, and in 1979 got a gig as a white-faced juggler in the movie
Xanadu
with Olivia Newton-John and Gene Kelly (now available on video cassette!)
Peter moved to Boulder, Colorado in 1980 and began his dance training. His teachers have included Larry Boyette, Ana Claire, Barbara Demaree, Finis Jhung, and Donald Mahler (ballet); Danelle Helander (modern); Janet Lott (jazz); Susan Hadley and Lynn Dally (tap). In 1982, Peter won first place at the International Jugglers Association Championships, and then toured for ten years with the innovative juggling and movement troupe Airjazz, appearing at venues such as the Jacob's Pillow Dance Festival, New Zealand International Festival of the Arts, Hong Kong Arts Festival, and on national TV programs in seven countries, including
The Tonight Show
with Johnny Carson. Yes, Johnny was also a cool guy off screen.
Peter has also performed as a dancer with Boulder Ballet, David Taylor Dance Theater, Jan Justis Dance Company, Kim Robards Dance, and 3rd Law Dance/Theater.
Peter has received numerous awards and grants including the 1995 Arts Innovation Award (Colorado Arts Federation), 1997 Colorado Arts Council Fellowship, and the 2009 Ballet Builders Award for New Choreography from New Choreographers on Pointe (New York City).
From 2004 to 2015, Peter was Co-Artistic Director of Boulder Ballet, a professional company based in Boulder, Colorado. Peter's choreography has been performed by Boulder Ballet, Ballet Nouveau Colorado, David Taylor Dance Theater, Saint Paul Ballet, and the Colorado Shakespeare Festival, among others. Excerpts from his ballet with objects
Cirque D'Amour
were performed at the 2009 Ballet Builders Showcase at the Dicapo Opera Theater in New York City.
Since the 1990's, Peter and his company of animate objects have performed at festivals and theaters internationally including the Carmel/California Performing Arts Festival, Utah State Arts Tour, Cincinnati Playhouse, Encuentro de Malabaristas in Spain, New England New Vaudeville Festival, Seattle's Moisture Festival, the 5-3-1 Festival of New Juggling and Object Theater in Finland, and the Chicago Contemporary Circus Festival. His solo TV appearances include
Harry Anderson - The Tricks of His Trade
(CBS),
The Paul Daniels Show
(BBC), and his highest paid gig relative to performance length:
30 Seconds to Fame
(Fox).
Also an active educator, Peter has been a teacher in residence at Celebration Barn Theater (Maine), The Lecoq Theater Program of Naropa University (Boulder), and the national circus schools of France and Quebec, under the direction of Cirque du Soleil director Guy Caron. He has taught numerous workshops in public schools, and as a faculty member of Boulder Ballet School (Colorado), Peter taught multi-disciplinary movement and founded the unique Boyz Dance program that introduces male students to the world of dance through physical theater and object manipulation.
In 2015, Peter joined with dancer Jennifer Aiken to found
Objectivity Dance Theater
, a unique performance company mixing concert dance, physical theater, and circus artistry.
Peter has two children: Alex and Claire Davison, both of whom have pursued careers in dance.